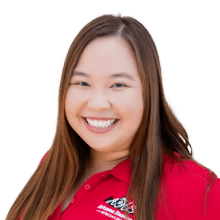 Kelly Nguyen, Au.D.
Doctor of Audiology
Dr. Kelly Nguyen earned both her Bachelor of Science in Speech, Language and Hearing Sciences and Doctorate of Audiology from the University of Arizona. She spent the last year of her graduate degree program as a full-time student extern at the Southern Arizona VA Health Care System, serving those who have served.
Kelly's love of hearing healthcare began at a young age as her grandfather was an ear, nose and throat doctor (ENT). When she visits her family at home in Southern California, she enjoys discussing new technology and best practice with her grandfather and lovingly reminding him to wear his hearing aids.
Dr. Nguyen recognizes the potential psychosocial impact of hearing loss on individuals and their communication partners, and she is passionate about educating others about hearing health so that they can make informed decision to improve their quality of life. She strives to provide exceptional care and a delightful experience for her patients and their families.
Dr. Nguyen's credentials include:
Doctor of Audiology, University of Arizona
Bachelor of Science (Speech, Language, and Hearing Sciences), University of Arizona
Licensed Dispensing Audiologist, Arizona
Member—American Speech-Language-Hearing Association (ASHA)
Extensive continuing education hours yearly