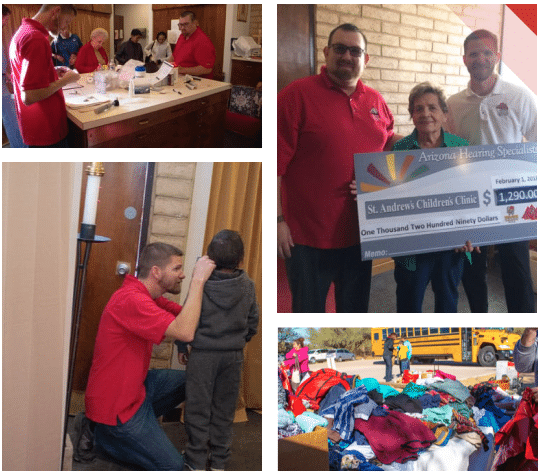 Arizona Hearing Specialists has built a strong reputation by providing outstanding hearing healthcare, lasting solutions and individualized treatment to our patients. Along with this commitment to our patients, we strongly believe in spreading the word about hearing healthcare throughout Tucson and its surrounding communities.
Improving Lives: Our Partnership with St. Andrew's Children's Clinic
Arizona Hearing Specialists is a proud supporter of St. Andrew's Children's Clinic in Nogales, Arizona, the longest running border health project in the country. St. Andrew's provides free hearing healthcare services on the first Thursday of every month to children from Mexico with serious medical problems who don't have access to care or treatment. The audiologists and staff volunteer their time and services to the more than 200 children who seek treatment at St. Andrew's every month.
We invite you to join us in supporting St. Andrew's Children's Clinic by donating your old or unused hearing aids. Our audiologists service all donated devices, then reprogram and fit them for a child in need. Your unwanted hearing aids can make a tremendous difference for a hearing-impaired child, and we are always happy to accept donations or answer any questions you may have.
For additional information about St. Andrew's Clinic, visit www.StAndrewsClinic.org.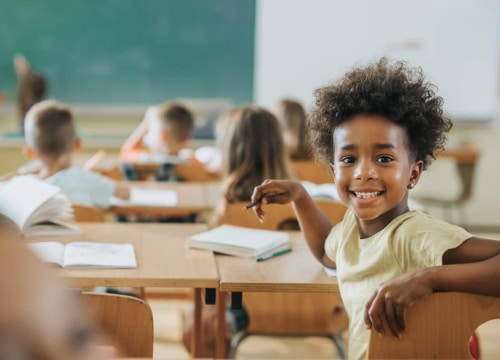 Back to School Giving Program
Arizona Hearing Specialists takes great pride in our community, and we look for opportunities to give back whenever we can. In 2019, we started our annual Back to School Giving Program by donating 10 new laptops to local schools. In 2020, we filled the need for 2 brand new smartboards and in 2021 we donated funds for new playground equipment.
Arizona Hearing Specialists Supports Alzheimer's Association RivALZ Football
Arizona Hearing Specialists is a proud sponsor of the Alzheimer's Association RivALZ flag football fundraising events. The links between hearing loss and cognitive decline are well documented but the daily struggles for the families are less well known. Through our involvement with the Alzheimer's Association, we hope to build awareness and help support patients and their families.
About the Alzheimer's Association
The Alzheimer's Association is a global organization working to advance care, support and research across the world. From face-to face support to online education programs and promising worldwide research initiatives, the money we raise makes a difference in the lives of those facing Alzheimer's.
About RivALZ
Alzheimer's Association RivALZ is a volunteer-driven event that engages young professionals in friendly but fierce flag football games around the country. As part of the competition, teams are organized around age-old rivalries — East vs. West, Blondes vs. Brunettes, City vs. Suburbs — that inspire fundraising, awareness and action in the fight against Alzheimer's disease.
The funds raised through RivALZ benefit the care, support and research efforts of the Alzheimer's Association. We strive to:
Help families across the country by continuing to provide and enhance programs focusing on education and support.
Advance critical research studies into methods of treatment, prevention and ultimately, a cure.
Speak up for the needs and rights of those facing Alzheimer's through our public policy initiatives.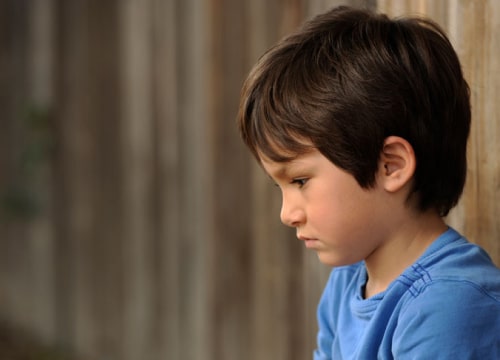 Supporting Abandoned Children through Corazon de Vida
Arizona Hearing Specialists is a proud supporter of Corazon de Vida, a non-profit organization that provides support for orphaned and abandoned children in Baja, Mexico.
The mission of Corazon de Vida is to break the vicious cycle of poverty by helping support children who have been abandoned.
The non-profit organization began more than 20 years ago with the idea that funding local orphanages can provide quality-of-life improvement, and funding higher education would be an investment in the children's future.
Through their life-sustaining program, they provide monthly funding for the orphanages under their care. These orphanages give abandoned children security, nutrition, shelter and access to a reliable education. They also fund scholarships for teens aging out of the orphanage system so that they can continue their education.
Corazon de Vida provides consistent monthly support to more than 10 orphanages, housing over 700 children.
Their university program currently has more than 45 past orphanage residents in college or technical school. These students are serving as role models to their younger siblings in the orphanages.
How We Can Help
Marcia Heller, a speech-language pathologist from Arizona, learned about Corazon de Vida in 2015 and contacted them about the possibility of doing hearing screenings at the orphanages. She organized some volunteers, and they went to the orphanages. Hundreds of children had their hearing checked.
Our audiologist, Greg Swingle, heard about Marcia's work with the group and wanted to get involved. He joined a group of volunteers that were heading down to Baja in January, 2016. Over the course of the trip, Greg and his group visited four orphanages and performed hearing screenings, checked ears for earwax, screened for ear infections and fit donated hearing aids.
Since the first trip in 2016, Greg has made a total of three trips down to Baja, Mexico with Corazon de Vida, Kristi Swingle has made two and Nick Ramirez has made one. Our dedicated group of audiologists believe in Corazon de Vida's mission and are excited to be part of it.
To learn more about Corazon de Vida and how you can help, contact us at (520) 399-7652. Or you can visit their website at www.corazondevida.org.
Call Arizona Hearing Specialists at (520) 399-7652 for more information or to schedule an appointment.