Life is a real balancing act sometimes. Literally. There are many things that can make you feel off-kilter (again, literally): walking down an icy sidewalk and slipping on a banana peel are two things that come immediately to mind. But Tucson residents can experience balance problems thanks to a number of other factors, some of which might surprise you.
Things That Can Cause Falls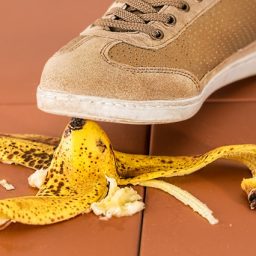 Individuals in Tucson over the age of 65 have a high risk of falling. It's actually the leading cause of injury for Arizonans in this age group, and also the #1 cause of injury-related death. Falls can seriously impact a person's independence and reduce their mobility, factors that contribute to a higher mortality rate. The statistics are sobering: one in five people in Tucson who fracture a hip as a result ofF falling die within one year.
Preventing a fall from occurring is extremely important as we age. Knowledge of those factors that contribute to falls is crucial. The following are lesser-known causes of balance issues.
Declining vision. The human balance system depends on visual cues to function most optimally. A decline in vision is natural as we age, and that can lead to difficulty with balance. Poor vision can make you misjudge distances, causing you to fall. In order to help detect problems early, we urge you to schedule annual vision exams.
Hearing loss. Hearing is extremely important in helping keep you on your feet. If you are having trouble hearing you might not notice somebody approaching or may easily startle, either of which can increase your risk of falling. Schedule an appointment with your Tucson audiologist once a year for a thorough hearing checkup to ensure you receive treatment for any decline in hearing as soon as possible.
Many over-the-counter and prescription medications have adverse side effects that can interfere with balance and coordination, particularly blood pressure medications, which may cause dizziness and lightheadedness – a combination that increases your risk of falling. To lessen your odds, practice rising from a seated position slowly to avoid a rush of blood to the head and a possible fall.
Lack of sleep. A minimum of 7-8 hours of sleep is very important for your overall health. Lack of sleep dulls your reflexes, slowing your reaction times and making you more likely to trip over an object. It is important to maintain good sleep habits in order to ensure adequate rest. A regular bedtime routine helps, as does giving yourself plenty of time to relax and de-stress before climbing beneath the sheets.
Alcohol dulls your reaction times, which can affect your balance. The older you get, the more pronounced its effects. We're not asking you to refrain from the chardonnay completely but limit your consumption to no more than one or two glasses per day, and don't drink within a few hours of bedtime.
High blood sugar is the bane of all diabetics, but low blood sugar can also cause problems. It may lead to dizziness and loss of consciousness, which can cause you to fall. If you have diabetes, be diligent in checking your blood sugar levels and carry an emergency piece of candy with you at all times to offset a sudden drop in blood sugar.
Your house may not be hoarder-worthy, but any excess clutter can represent a tripping hazard. Nine million ER visits every year are a result of falls in the home, so keeping your house tidy and neat is an easy way to reduce your risk. 
Need additional tips on preventing falls? Your Tucson audiologist is happy to help!