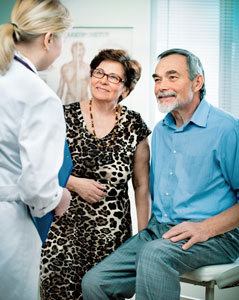 So you're finally taking the plunge and getting your hearing checked. Maybe you were sick of your Tucson family and friends harping on you about your obvious hearing loss or perhaps you finally noticed all the sounds you have been missing. Regardless of the reason, we are glad you have made the decision to improve your quality of life through better hearing.
But wait! Before you can skip off into the sunset, you need to decide who you should trust to manage your hearing health care. There are two options: an audiologist or a hearing instrument specialist.
What is an Audiologist?
An audiologist is a licensed and certified professional who has earned a master's degree (M.S.) or doctoral degree (Au.D./Ph.D.) in the field of audiology. Typically, this level of advanced education requires six to eight years of study to complete.
Certified both nationally and at the state level, audiologists are licensed to practice by the American Speech-Language-Hearing Association (ASHA) and are trained to diagnose and treat disorders of hearing and balance. They can perform comprehensive hearing evaluations, fit hearing devices, recommend assistive listening devices (ALDs) and counsel patients and their families in communication and listening strategies.
What is a Hearing Instrument Specialist?
A hearing instrument specialist is required to have only completed high school or, in some states, possess a two-year degree. In addition, they must pass a written and practical exam to become licensed by the state in which they practice. Hearing instrument specialists may also pass a national exam and become board certified hearing instrument specialists through the National Hearing Instrument Society. They are trained solely in the interpretation of hearing assessment instrumentation, hearing device electronics and specifications, and programming hearing aids.
As you can see, while they can both help you with your hearing aid selection, a Tucson audiologist is able to provide an advanced level of support that hearing instrument specialists are unable to match.