Now that we're midway through June, it's officially summer!
Of course, in Tucson, the season arrives a bit earlier. Sunshine and warm temperatures mean outdoor activities galore – but also bring an increased risk of hearing damage if you aren't careful.
Seasonal Hazards to Your Hearing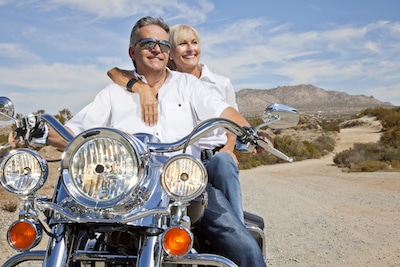 Noise is the biggest threat to your hearing in Tucson during the summer months.
Exposure to loud noise is actually the biggest cause of hearing impairment year-round.
Approximately 10 million people of all ages are affected by noise-induced hearing loss (NIHL) across the U.S.
With lots of outdoor activities, celebrations and concerts, summer is a prime time to think about protecting your hearing.
Summer hearing health hazards in Arizona include the following:
Concerts
Fireworks
Sporting events (baseball, rodeos, etc.)
Parades
Motorized vehicles (boats, jet skis, motorcycles)
Lawnmowers
Unlike hearing loss related to aging or disease, NIHL can be prevented.
The key is to protect your ears by wearing earplugs whenever you will be participating in any activity with the potential to damage your hearing. Disposable, one-size-fits-all foam earplugs can be found in most drugstores and provide adequate protection.
Even better? Custom plugs made from molds of your ear canals.
They provide the best fit and protection and are a good choice if you plan on spending a lot of time in situations where noise will be a factor.
Your Tucson audiologist can help you with ordering a pair.
Other hearing protection tips this summer include:
Fireworks should be enjoyed from a safe distance. Many people like to light their own fireworks but doing so is dangerous; not only do they produce decibel levels exceeding 150 dB – loud enough to cause instant, permanent damage – but if you aren't careful, you could end up losing a finger or two. It's best to let the professionals set them off instead.
Don't go swimming when bacterial counts are high. This can cause an infection that might eventually develop into permanent hearing loss if left untreated. Look for signs posted around your favorite swimming spot. Avoid swimming when bacterial counts are high.
Protect your ears while taking a dip by wearing swim plugs. These prevent water from entering your ear canals and causing a painful infection called swimmer's ear. Be sure to dry your ears thoroughly after coming into contact with any water source – this includes the shower and the plastic swimming pool your kids (and probably you, when the weather is especially hot) like to splash around in.
Hearing aid users should keep their devices safe from heat and humidity. A dehumidifier is a good investment for removing excess moisture. Granted, Tucson weather tends to be on the dry side, but during monsoon season sudden downpours can catch you off guard. If you are caught in a rainstorm, remove your hearing aids – or use an umbrella.
Your Tucson audiologist can give you more tips on protecting your hearing this summer.
---
Related Hearing Loss Posts:
---
Our Tucson Audiologists Office Locations