Concerts are a popular draw for Tucson residents, but noise and hearing don't mix. If you frequently attend live shows, there are tips that will keep your ears from harm without ruining your ability to enjoy the music.
The Hazards of Loud Guitars and Drums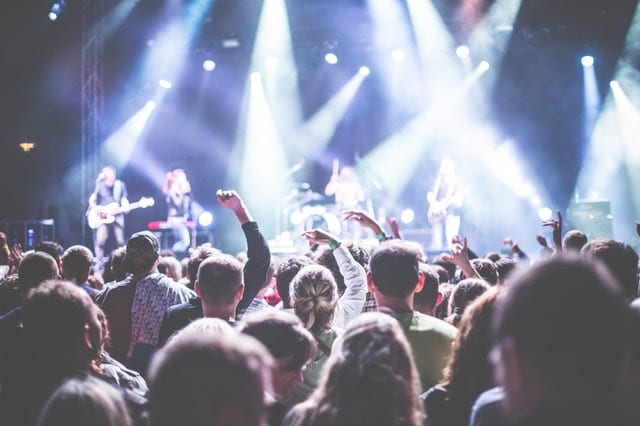 Concerts and music festivals are a popular pastime in Tucson, and it's been that way for decades. Your parents and grandparents also enjoyed live music. Remember Woodstock? Unfortunately, many older adults are now experiencing the side effects of those shows and dealing with impaired hearing.
Some decline in hearing ability is normal as we age. About one-third of Tucson residents aged 65 is experiencing hearing loss, and about half of those 75 and older have difficulty hearing. This culprit in most cases is noise.
Exposure to sounds louder than 85 decibels (dB) for extended periods can cause irreversible damage to the hair cells of the cochlea. The louder the noise, the less time you have before harm occurs. Sounds measuring 85 dB—roughly equivalent to traffic in Tucson with the car windows rolled up—can damage your hearing in eight hours.
Dial up the volume just a little bit, to 100 decibels (about the sound of a passing ambulance siren with the windows rolled down), and permanent harm can occur in as little as 15 minutes. It's enough to make you want to ditch the car and walk instead, but there is no escaping noise. It's all around you, from construction and barking dogs to lawn mowers and
Not all the blame lies in music; noisy occupations, disease and trauma can all lead to a decline in hearing as we age. Even the normal, everyday sounds of daily life—traffic, barking dogs, lawn mowers, power tools, even common household appliances—eventually take their toll.
Of more immediate concern is the noise associated with concerts. Decibel levels at live shows range from 95 to 115 dB on average, noisy enough to cause hearing damage long before the final encore. Concertgoers frequently experience tinnitus (ringing in the ears) and temporary hearing loss for a few hours, or even days, following a show; repeated exposure can cause long-term hearing impairment.
By taking a few precautions, you can continue to get your fill of rock 'n roll without risking damage to your ears.
A 2016 study of 51 concertgoers found that earplugs make a significant difference. The results, published in JAMA Otolaryngology-Head & Neck Surgery, showed that 8 percent of the individuals who wore earplugs with a noise reduction rate of 18 dB experienced hearing loss, while 42 percent of those who did not wear earplugs suffered hearing loss.
You can pick up a pair of disposable foam earplugs from most drugstores and those will help, but they tend to make the music sound muffled. Opt for a pair of musician earplugs instead; these decrease sound levels evenly across the hearing spectrum, enabling you to hear each musical note more clearly. Your Tucson audiologist can help you find a pair.
Another tip: go for the nosebleed seats. This might sound like sacrilege to a true music lover, but the closer you are to the stage, the louder the volume will be. ASHA recommends maintaining at least a 500-foot distance from speakers and other sound sources. Your best bet is to look for an outdoor venue, where sound won't be confined to a tight space. Regardless of the location, be sure to give your ears an occasional brief break, even if only for a minute or two. Use it as an excuse to visit the restroom or grab another beer.
If you'd like a better idea of just how noisy the show is, download a decibel meter app for your smartphone. There are plenty of choices for both Apple and Android users. Most are pretty accurate and will give you a good idea of your safe exposure time.
If you'd like more information on protecting your hearing in noisy situations, contact an audiologist in Tucson.
Related Hearing Loss Posts:
---
Our Tucson Audiologists Office Locations